This interview is from the Behind the Wheel newsletter series that went out in early 2020..
Paul is a motoring presenter and filmmaker. He creates incredible car stories over on YouTube and also manages one of the most exciting British race tracks, Cadwell Park in Lincolnshire.
You can find his YouTube channel here.
Jess: I think you're very much like me in that you've done quite a lot within motorsport and the automotive industry.
Paul: I'm a bit of a magpie when it comes to cars and motorsport. If I see a new opportunity, I grab it. And some of those opportunities last and some of them are short-lived, but that's the way I've always been. I'm quite busy. As a result, I have to have quite an understanding wife! So if somebody says: 'Do you fancy getting involved in this?', whether it's managing a British GT team or it's getting involved with a new TV show or a new podcast, that's kind of how it's always been.
And there's something really exciting about that kind of opportunity, especially when it's in an arena that you love. Can you tell us a little bit more about your TV work and maybe pick out some of the highlights?
P: I started when I was at uni. I was writing for some car magazines — Fast Ford, Classic Ford, magazines like that — and I saw an advert on the British rally forum. It said they wanted somebody just to do some voiceovers for some rally videos and you got paid in DVDs. Well, I used to watch rally DVDs all the time so I took the job. I loved watching the DVDs, albeit with the sound off because it was horrendous listening to your own voice, to begin with.
I then got a gig for the British Tarmac Championship, as it was at the time. They gave me the shot at that because I've been doing the voiceovers on the DVDs. It became Special Stage after that and went from a bunch of mates sleeping in our cars and following the rallies around, to actually being given budgets and actual TV slots.
It led to a lot of offshoots. I presented the Formula Student live stream with Alex Legouix for a few years. I've been lucky enough to go and present much more individual projects, too, such as a tour of the Racing Point Formula One team last year with one of our old sponsors. And I got to do films for a supercar company for a while off the back of it. So it's led to some really, really cool stuff.
I've found that once you get your name out there, it's quite easy for things to build from that. What's your focus at the moment?
P: My main focus is the day job, which is managing Cadwell Park on behalf of Motorsport Vision. This is my fourth year of doing it and a lot of the other stuff has kind of fallen away because of the amount of dedication and effort required to do that.
Cadwell Park
However, recently, I got back on with my YouTube channel, as I know that you've been doing. I'd made over 40 classic car and racing films but I stopped doing it for a while because I didn't know why I was doing it.
And then I got given a classic car to drive around in, an old AC 3000, and as I drove, I thought I do this because I love it. So, I decided to make a concerted effort and I've done another four or five films since.
Do you have any plans to compete again any time soon?
P: I think 2011 was the last rally I did, so that's got to return somewhere. I actually did my race licence last year and made a video blog out of it. Working at a race track, it'd be rude not to.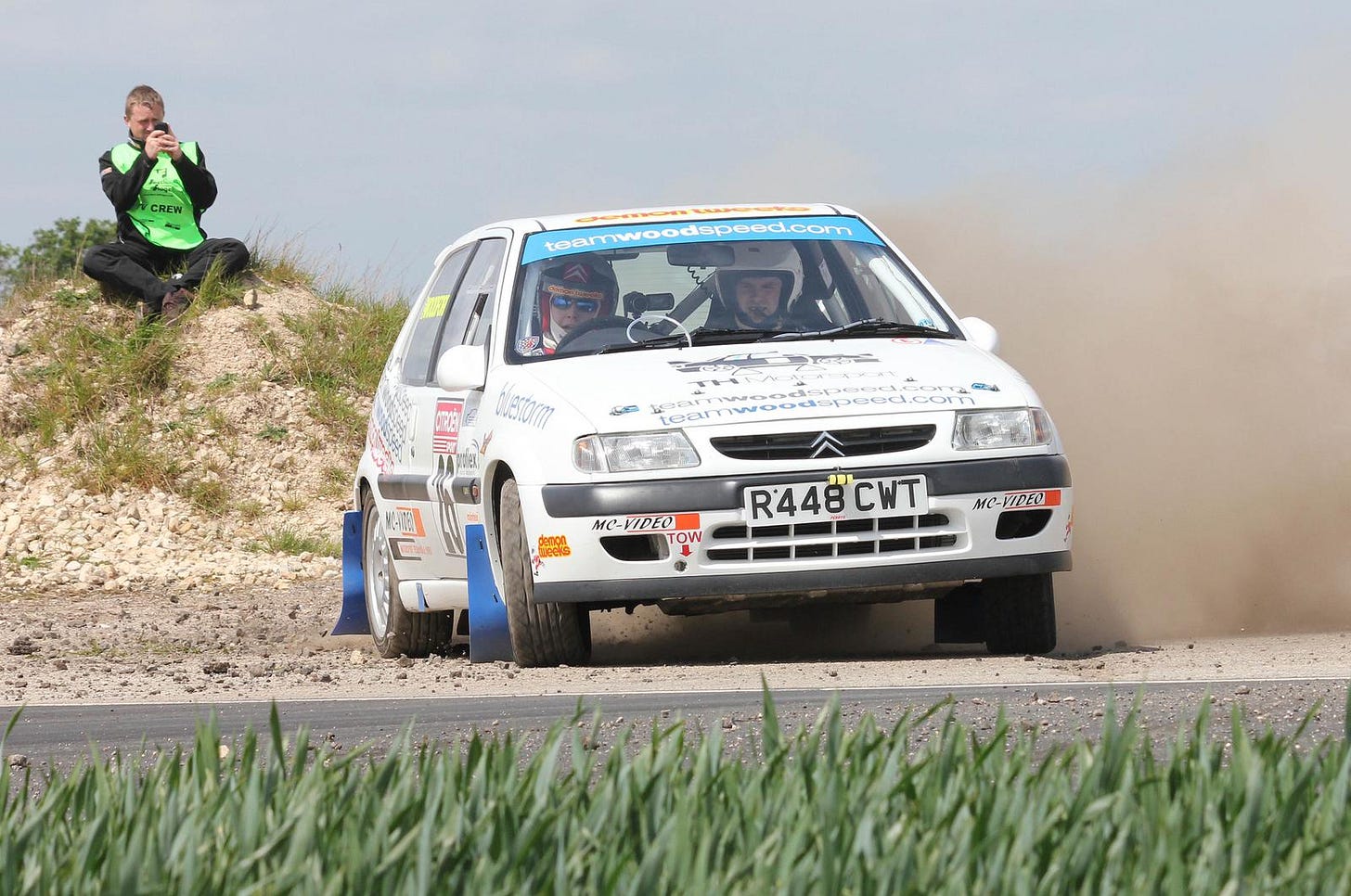 Jason Wood and PDC Racing have very offered to give me a Classic Stock Hatch car to race. I love that series, the racing is door to door, there are cool cars, the camaraderie is excellent, and it's not a million pounds to go racing. Plus it races at all the best circuits, including Cadwell Park.
Let's talk a bit more about your YouTube channel. I really love the way you're telling stories through car films. Where does your passion for this storytelling come from?
P: It's purely because, for me, cars have always been an adventure, whether it was working in the garage with my dad as a kid or going to rallies. I like the technical details to a degree but they're not what excites me. What excites me is when you pull up at a petrol station in an Audi Quattro, for example, and everyone has a story about it.
Do you have any plans for the YouTube channel and how it'll develop?
P: I used to but I don't anymore. It's almost like a curation, for me. I did a thing recently where I went through and I made sure that each one of my car films had a cover, and I put a montage together. I love the idea that I'm collecting all these adventures and stories. That's the best bit of it, putting a new video on and adding to that collection.
Because I know this will make everyone jealous, I wanted to ask what's the best car you've ever driven.
P: It's one of my all-time favourite cars, the Group B Metro 6R4.
I still can't believe I was lucky enough to be given the keys to it on a rally stage at a racetrack with the owner next to me telling me to push it and go sideways. It remains probably the most incredible motoring experience I've had. I actually cut my honeymoon short to do it.
It's like strapping a nuclear bomb to your back and setting it off. I was quite scared of it, to begin with, and obviously, I didn't want to bend it or anything but it gets to the point where you're balancing it on the throttle and just chucking it everywhere you want it to go. It was absolutely phenomenal.
That was one of the very first films that I did. I filmed it handheld on an old iPhone 3 and I wasn't really putting a lot of attention on to the production values. I wish I could go back and do that video again because it is one of my worst videos for production value, but probably the best video ever for the content.
Do you have a fact about Cadwell Park that people might not know?
P: The one that always makes people do a double-take when I'm giving heritage tours is that the Queen owns a very small part of our racetrack, it's crown land.
Let's talk about your car. You currently own a Focus ST. How did that come about?
P: I've always been a fast Ford nut. My first rally car was a MkII Cortina, and I used to play with rally Escorts. Every single other car I've owned has been a Ford of some kind and usually a sporty one. I first got an estate version of the Focus ST but it got written off in an accident.
So I did a short stint with a Kia Sorento and realised that in a year I hadn't used the seven seats once, even though I've got three kids. I fell out of love with driving for that year after the accident so I decided to get a Focus ST again. I've got the stealth grey one with the black wheels and leather Recaro seats.
I've got a dirty secret, though, and it is a dirty secret because the Focus is actually diesel because I do a hell of a lot of miles. It's the best all-rounder I can imagine, though, and I wouldn't have anything else right now.
Do you have any Lincolnshire roads that you would absolutely recommend for anyone visiting the area?
P: The great thing about Lincolnshire is that you get a lot of wide-open roads so you can have a bit of fun (you know, legally) and chuck it around a bit. I live near the Humber Bridge and the roads between there and Cadwell are great.
I also love the drive from Scarborough up to Whitby with all the drops and things.
A good road isn't necessarily a road that I can go fast on. A good road is a road that makes me feel good because of the way it looks, and any road can look good with a decent sunset.
Is there anything that you're working on at the moment that you'd like to talk about that we haven't covered yet?
P: I'm working on The Spinning Wheels Podcast with a friend of mine, Guy Smith — Le Mans winner with Bentley, and winner of many races and championships all over the world.
Other than that, I've got a couple of film ideas, and I'm working on a book that involves a Mad Max-style MkI Lotus Cortina.
Final question. Best boy band of the '90s?
P: Westlife.
Good choice! I'm a '90s child so I'm also a big fan of Westlife.
P: It was just so feel good wasn't it! I like the Backstreet Boys as well and A1 were pretty cool.
This is ruining what little credibility I have at the moment.
Funny story. I had a Lee Mead CD in my car — he was in the Joseph: Any Dream Will Do TV show with Andrew Lloyd Webber — and because I like musicals, I had his album. Normally I'm quite honest about these things but my mate Alastair Smith was in my XR2 and pulled out this Lee Mead CD and said, 'what's this?'. I don't know why I did it but I said it was my mum's, even though clearly it wasn't, why would she have a CD in my XR2?
Alastair had to get out of the car because he was laughing so much.