Behind the Wheel was originally published back in 2020 as part of a newsletter series. I'm moving everything over to this blog so everyone can learn from the cool people behind the wheel
---
Steph has been running the idriveaclassic Youtube channel for a year now, using it to showcase a wide range of classic and retro cars. Her style is friendly and knowledgeable without getting too bogged down with stats and technical info, instead, she tells the stories of these wonderful cars.
Jess: Firstly, congratulations on reaching 10,000 subscribers!
Steph: Thanks, it's absolutely mental. I think YouTube's really weird because you've got nobody out there telling you what a normal kind of rate of advancement is for subscribers but because what I've done is quite niche, and I'm a woman in a man's world, I am actually secretly very pleased about it.
What made you decide to start the YouTube channel?
S: I love the show From A to B: Tales of Modern Motoring. It was one of the first reality TV shows where they got people in the car, and they just filmed them as they were driving, finding out what made them tick. I wanted to do that.
I went to the NEC Resto Show last March and I was showing on the Metro stand. One of the other owners said to me: 'Have you thought about doing YouTube?' I hadn't really because all the girls I see do well in the world of social media are gorgeous, they're models, they're 10 out of 10. And he said that if you look at the world of classic cars on YouTube, it's really different from typical YouTuber or influencer culture.
So I wanted to have that Tales of Modern Motoring edge, which is why I always ask people to be in my videos and talk about their cars because that's more engaging than a simple walk-round of a car.
Out of all of the videos you've done so far, is there one that's a favourite of yours?
S: It has to be the Snuggy!
It was totally not what I was expecting. It broke down and the owner didn't mention that it didn't have reverse on it. It literally had a forward and that was it. I really enjoyed it, though, because I laughed so much during filming. It was at a time when life hadn't been very nice and it was that day that I just thought 'oh my god, this is the best day out we've had in ages'.
Oh, and the scrapyard video! I did a road trip last year around France, Belgium, Germany, Luxembourg, and we made it into a video. During the trip, we came across a guy who had all these old cars and we got to film his scrapyard. It's great because it was totally unexpected. People loved it, and it's still a video that people go back to all the time.
Can you share the stories behind your cars?
S: A lot of people don't know this but I've actually got five cars.
It started in 2009 when I passed my driving test. I bought a Metro 114 and when I got in it, it didn't sound right but the person I took with me encouraged me to buy it anyway. It was horribly unreliable and ended up producing three fail sheets at its MOT.
I started to look up what classic cars had the best parts availability and all these websites came back saying Morris Minor.
Everybody said my desire to buy a classic car was a phase. But I bought a Morris Minor, and I paid an awful lot of money for it but it broke down constantly. It's broken down constantly now for the last 11 years, but I just pushed on with it. I didn't want to prove everybody right that I was going to throw in the towel!
And in November of 2009, I parked at the hospital for an appointment, when I came back out and it had been smashed to bits. All the windows have been smashed in, the doors had been ripped off, the interior was damaged, it was awful. I rang the insurance and they said they'd scrap it. I thought, 'no, this car has not got through 40 years of her life to be written off by some idiots in a hospital car park'. So I took it home and I rebuilt it. I then drove it through to 2012.
I then bought another Morris Minor blind in the hope I could get one that was more reliable. The seller was really open about what needed to be done but the car was perfect. It started up first time and went straight through its MOT, despite having not been driven properly since the eighties.
Then came Jill, my 1981 Austin Mini Metro. I saw it on a trailer with no engine and it looked like a scrap car. It had obviously been cared about at one point, but then I think it just been kind of forgotten. So I bought it and put a 1.3 engine in, and it's still one of my favourite cars.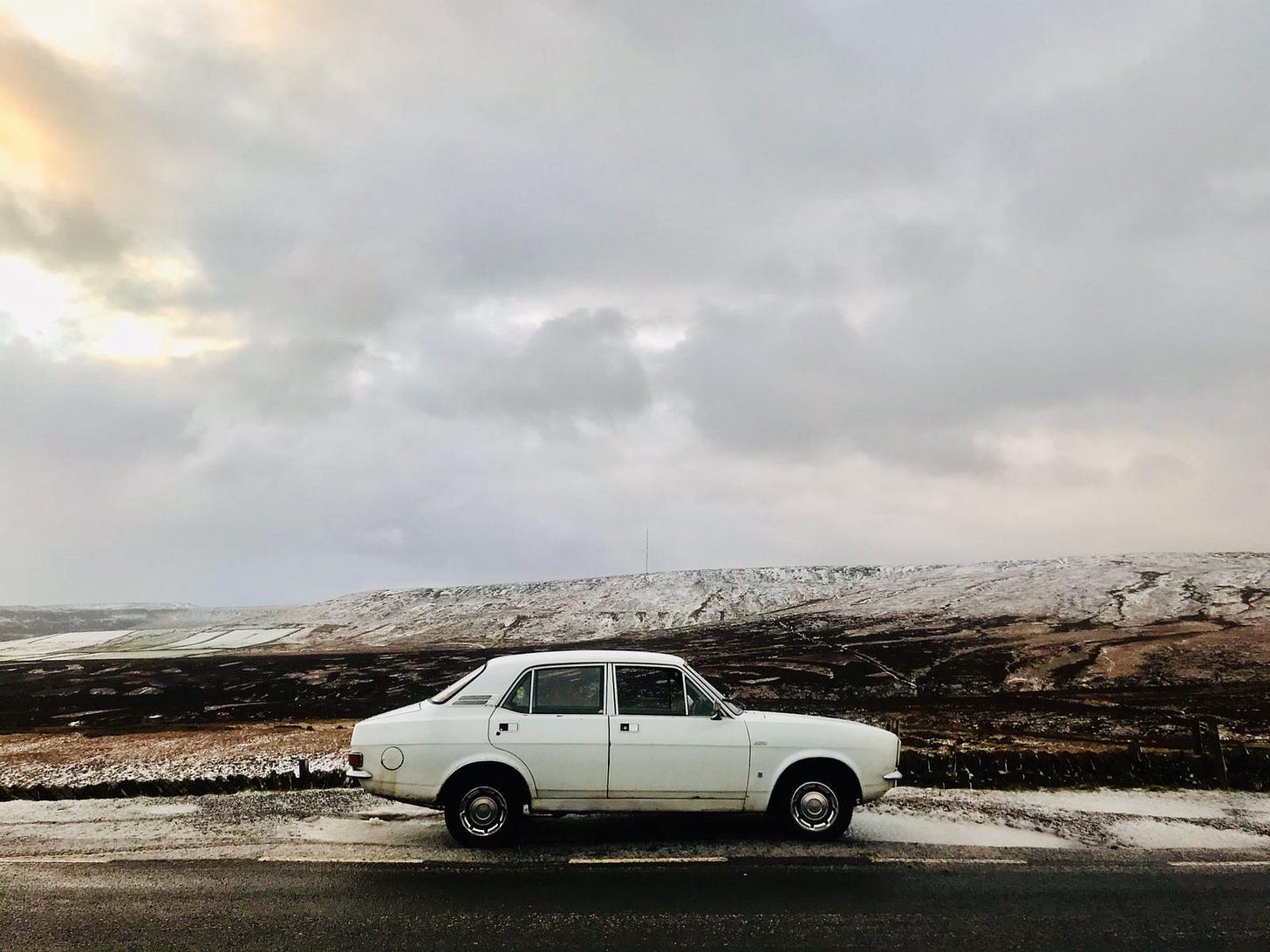 The Marina at Snakes Pass
Then I knew it was time to buy a Marina so I contacted the Marina owners club and ended up buying a 1971 Morris Marina 1300 earlier this year. I wanted it to be a bit of an investment so after getting it roadworthy, I've been overhauling all the brakes, and I sent it to a specialist garage to get the clutch done too. This is a car I really want to keep and be the best car possible so that it stays on the road.
Your vintage style fits so well with classic cars. Tell us more about your style.
S: I feel most comfortable in vintage clothes. What I wear from the '60s and '70s is such good quality, too, and you'd have to pay so much now for something of a similar ilk. I just don't gel with modern fashion at all and never have done.
I don't think vintage is that expensive, either. Some of it is, of course, but I buy stuff every week for a few quid. I've got a cardigan on today that's from the '50s or '60s and when it arrived it had the original labels all on — it cost me £5.70.
What are your favourite driving roads in Yorkshire?
S: If you like a bit of a thrill, Snake Pass is hilarious.
Butter Tubs Pass at sunset.
I also love Butter Tubs Pass, which goes up to the Wensleydale cheese factory so you get a good drive and a nice day out as well. A bit of trivia for you, it's called Butter Tubs Pass because, before the days of refrigeration, they used to keep the butter in these huge holes at the side of the road because they were nice and cold.
Another good one is Tan Hill because the roads are amazing but at the top is Tan Hill Inn, which is the highest pub in the UK. The nice thing about the road is it just feels like it's untouched by modern life, which makes it such a joy to drive.